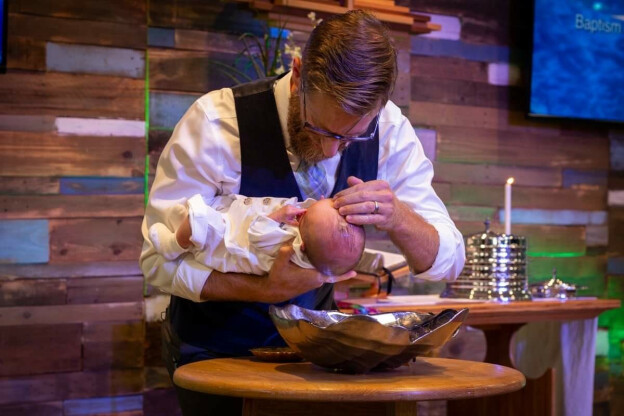 While membership isn't specifically mentioned in the Scriptures, the idea of commitment to the local church is biblical. Membership provides the opportunity to join in the church's mission and help make decisions that will affect the church's future! Becoming a member of Community Lutheran Church is like joining a family.
Baptism
Baptism is a sacred act in which God Himself is at work forgiving sins, giving new life in Christ and bestowing on us the Holy Spirit with all of His gifts. Infants through adults are baptized by one of our pastors during church services on the date of your choice. To learn more about our beliefs on baptism, please read "What About Holy Baptism." Please contact Pastor Hiller at 760-739-1650 to schedule a baptism:
Foundations Class
If you are new to Community and are looking to join, please attend this Sunday morning class as we examine the core beliefs of our faith and how they play out in the congregation. Please e-mail the church office at or call 760-739-1650 for the dates of the next class and to register.
Transfer
If you've just moved from out of town, we hope you'll find your church home with us at Community! If you are a baptized and confirmed Lutheran and are interested in membership, please contact the church office at or call 760-739-1650 to have your membership transferred. Transfers are invited to attend our Foundations Class, as well.
New Member Orientation
Upon membership, you will be contacted by Catherine Richter to schedule a New Member Orientation. Catherine will find time to meet with you and give you a packet which will include a church member directory, church council leadership contact information, and more.
New Member Welcome
Time is set aside during the worship service a couple of times each year for us to publicly welcome our new members. New members are asked to come the front of the congregation to affirm their commitment to the church and to be introduced. Welcome to the Community Lutheran Church family!