Welcome to Community Players Theatre
We are a non-profit theatre company of Community Lutheran Church. Our Christian values are reflected in our choice of shows, and you'll find that our cast members are friendly and encouraging of one another!
Community Players Theatre is proud to announce auditions for: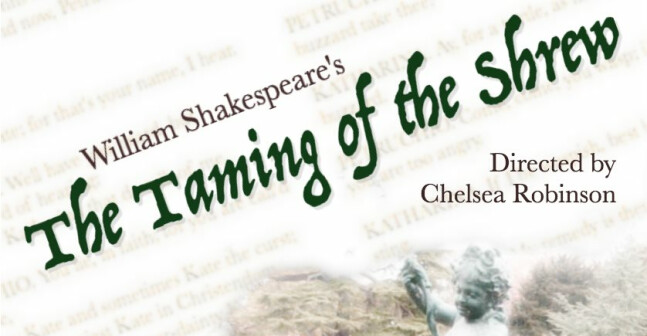 Audition Dates
Sunday, June 2 - 11 am - 12 pm & Monday, June 3 - 7-8 pm
Bailey-Bees Theater@ Community Lutheran Church Campus
3575 E Valley Pkwy Escondido, CA 92027
(Video submissions will be accepted between May 31st and June 5th. Please submit them, along with your theatre resume, to )
NO SHAKESPEAREAN EXPERIENCE REQUIRED! We love newcomers, and promise that you'll have fun in spite of all the "thees" and "thous"!
What to Prepare
Two memorized 1-minute monologues:
- One Shakespearean (comedic or dramatic), either a sonnet or monologue/soliloquy from a play.
- One contemporary comedic monologue.

Casting Details
4 - 6 women: ages 18 - 60
16 - 20 men: ages 15 - 70
There is room for a small ensemble of kids 12 years and older

Performance Dates
August 2-4 & 9-11
(7pm Fridays and Saturdays, 2pm Sundays)

Tentative Rehearsal Schedule
First Rehearsal Tuesday, June 11th
Tuesday & Thursday evenings, 6:30-9:30
Some Saturday mornings (TBA)
We are in the process of replacing the chairs in our theatre. CLICK HERE to go to our online donation page if you would like to donate. Cost is $40.00/chair.
Contacts
Director of Drama Ministries: Chris Ryan
Tickets: Lisa McCulloch
Facilities: Catherine Richter
Phone: 760-739-1650
Community Lutheran Church
Bailey Bees Theater
3575 E. Valley Parkway
Escondido, CA 92027
Social Media
Ad Sales
Interested in participating in our Business Card/ Appreciation Notice fundraiser? For just $20, your business information or notice of appreciation will appear in our show programs. Contact Lisa at Thanks for your support!
Past Shows
View our photo gallery of past shows including The King and I, Oklahoma, Mary Poppins, and Godspell!
Our Season