November 8, 2015
What a beautiful Dedication Service! We had 185 in attendance for the special day.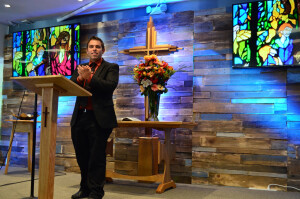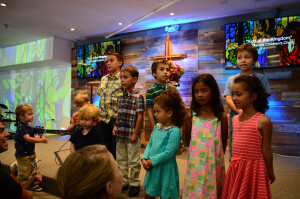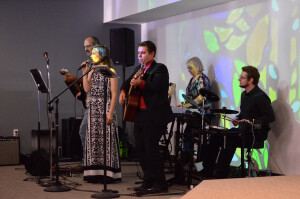 November 5, 2015
Work continues on grouting tile and the projection system to get read for the San Marcos Campus Dedication Service on Sunday!
Just a reminder that the Dedication Service will be held at 340 Rancheros Drive Suite 160 in San Marcos at 3:00 PM on Sunday, November 8th. See you then!
November 4, 2015
Carpet on the staging and a tile back splashes is going in! A security system is also now in place.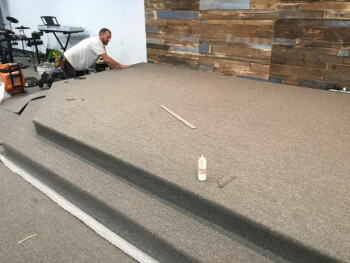 October 14, 2015
After our Community Lutheran Church San Marcos campus has worked for two years to get into this new building, the day has finally arrived that we have completed renovations and passed all inspections! Please make note of our new address, and join us for worship on Sunday mornings at 9:30 AM! I would love to give you a personal tour. We would also like to invite you to our Dedication Service on Sunday, November 8th at 3:00 PM. We thank God for bringing us here and ask for His guidance as we continue to reach out our community with the Gospel. Thank you all for your continued prayers!

In Christ,
Pastor Joel Beyer

Community Lutheran Church | San Marcos
340 Rancheros Drive Suite 160
San Marcos, CA 92069
October 12, 2015
We have passed all of our inspections! Praise the Lord! We hope that you will come worship with us soon at 9:30 AM on Sunday mornings at 340 Rancheros Drive Suite 160.
September 13, 2015
Today was Sunday School Open House at our San Marcos campus, where families could come meet teachers and check out their brand new classrooms!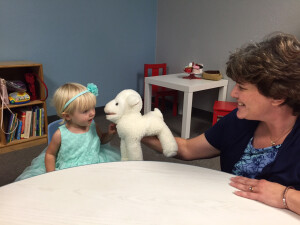 September 12, 2015
This mural in the hallway at our new San Marcos campus represents baptism, worship, serving, giving, and studying God's Word. Photo by Scot Koch.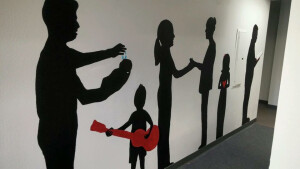 September 10, 2015
Air conditioning units are being installed on top of our new San Marco campus church building! Sunday school furniture also arrived today.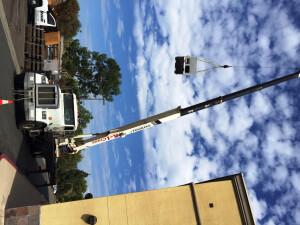 September 6, 2015
Our new campus is so close to being finished! Thanks to volunteers who have poured many hours to make it beautiful and ready for ministry!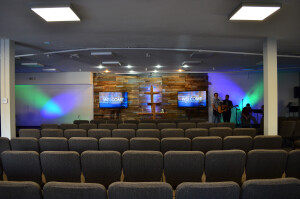 September 3, 2015
All of the new carpet was put in today! Bill Hunter and Lance Andersen continued work on the pallet wall well into the night again. Pastor Joel brought over the first truckload of items from the Escondido basement that has been stored there awaiting the new building renovation. The Beyer kids were excited to see the "new" toys!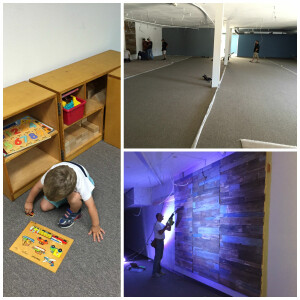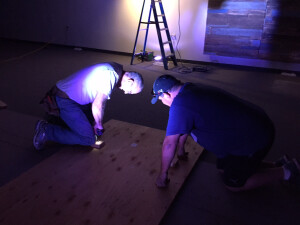 September 2, 2015
The Wednesday night Men's Bible study group met to tackle some outstanding projects such as painting overhead pipes, painting the nursery walls, and putting up mounting for the pallet wall. They worked well into the night!
September 1, 2015
Drinking fountains are installed. Pastor Joel received some new lighting that will be put up behind the cross.
August 31, 2015
Air conditioning and heating was put in today and will be finished tomorrow. Dick Andersen spent some time working on counters for the fellowship area. Some new lighting came in that will be installed behind our cross above the altar.
August 30, 2015
Today, we celebrated Pastor Vogelsang's retirement by worshiping at our San Marcos campus. Thank you, Pastor Vogelsang, for all of your support for our San Marcos campus!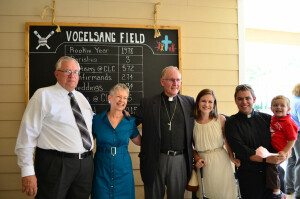 August 29, 2015
Today was our big work day, and we accomplished what we set out to do! The entire building was painted, and it looks great. Thanks to Cherie Arendse for selecting the color pallet, and thanks to the following for helping paint:
Scot and Kari Koch
David and Michelle Kruest
Ryan Birdseye
Steve Staton
Lance Andersen and Mitchell
John Tulkki
James Coyne
John Mountain and Jackie
John and Jamie Priest
Craig Gustafson
Pastor Joel got there early to paint the ceiling. As members showed up, they began painting walls. Jamie Priest installed the outlets in the fellowship area island. Bob Onsgard brought lunch around noon, and the work finally wrapped up around 3:00 PM.

August 28, 2015
Several members pitched in to get work done during the day today. Dick Andersen and Bill Hunter installed cabinets in the fellowship area. Kari Koch and Mary Hunter continued painting the bathrooms. David Arendse, Gregg Simmons, and Dan Huhn sprayed primer over the entire building!
August 27, 2015
Pastor Joel, Mel Schuler, and Dick Andersen put together the island in the new fellowship area. It looks great! We have stools that will be put around the island so it can be a center for chatting, studying, working, hanging out, and drinking coffee.
The bathrooms also got a little attention today with some paint by Raymond Head and Mary Hunter.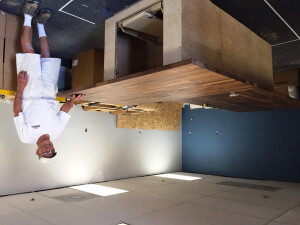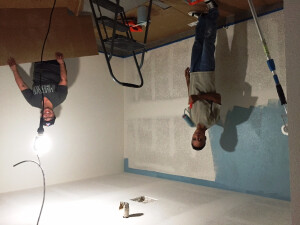 August 26, 2015
Pastor Joel and Tim Johnson drove up to Santa Ana to rent a U-Haul and pick up cabinets for the new building.
August 25, 2015
Pastor Joel and Raymond Head get to work painting the lobby of our new San Marcos church office! Volunteers will be needed on Saturday at 9:00 AM (and possibly other days) to finish up the building. Stay tuned for more information!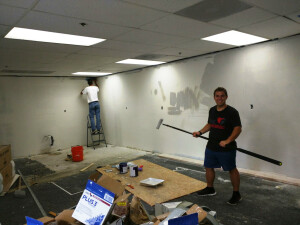 August 22, 2015
Unfortunately, the contractors were not finished with the drywall this morning, and we were not able to paint in the new building. We appreciate the church members who came to help! We were able to pull up carpet in the nursery, and countertops for the kitchenette were brought in.
Drywall is expected to be completed and ready to paint mid-week. Get ready to help out! In order to keep with our timeline of worshiping in the new space in a couple of weeks, we'll need to get the entire building painted this week so that carpet, electric, and inspections can take place the following week.
Pictured is Pastor Joel purchasing paint early this morning and sharing about our church and the story of the reformation with Home Depot employees who were curious about Lutherans. The other men in the pictures are working to complete the drywall surface. One asked excitedly, "Am I going to be on Facebook?"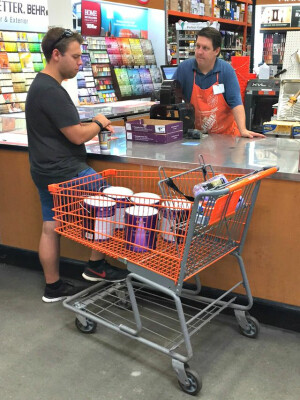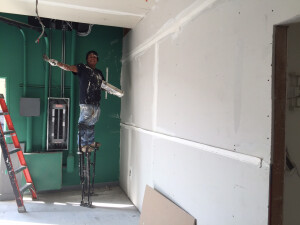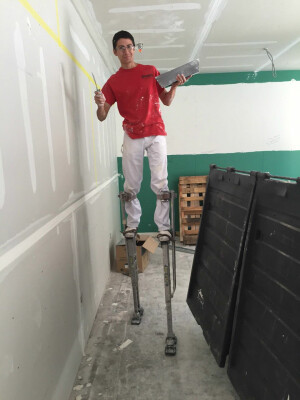 August 19, 2015
Volunteers are needed to paint the front office of the new church building at 9:00 AM. Bring brushes are rollers if you have them.
An additional $400 was donated by a member for our new building, bringing our total to $82,665!
The building is really starting to take on a new look with all of the drywall.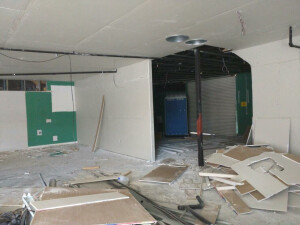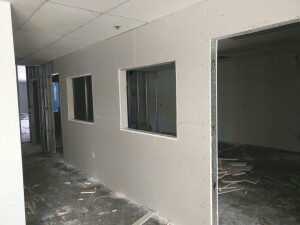 August 18, 2015
Pastor Joel and Pastor Meyer went to the new building to space out the sanctuary chairs. We can easily fit the 120 chairs we've already purchased and possibly 20 more. It certainly won't be a challenge to fill those chairs! We had about 100 in worship on Sunday. The next step will be to consider a second church service in the future to accommodate new families and growth.
August 17, 2015
Last Sunday, August 9th, an additional $900 was given toward the new building costs!
Drywall is being completed, and we anticipate drywall inspections this week.
Dick Andersen has been building a coffee bar island for the new church building and went to pick up butcher block from Ikea today. Thanks for the hard work!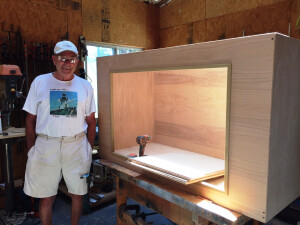 August 16, 2015
We celebrate with Krista Coyne in her baptism today!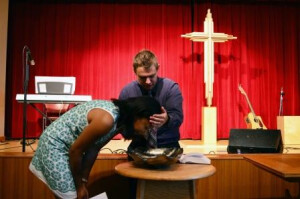 August 15, 2015
A half-dozen volunteers completed the pallet walls today by cutting, sanding, gluing, nailing, and staining the wood. Five panels will be mounted behind our stage in the new church building.
August 10, 2015
We passed the framing and electrical inspections!
August 9, 2015
Another blessed morning of worship. Our new member Foundations class has just begun! If you missed it, please join us next week at 10:45 AM after the worship service.
August 8, 2015
About a dozen people took apart pallets, sanded them, and put them together like a puzzle in order to make panels for our relclaimed wood wall. The wall will be assembled behind the stage/altar and signify our relationship with God, that he uses us and makes us beautiful. It also looks pretty cool! Thanks to Mel Schuler, Jake Euhus, David and Cherie Arendse, James Coyne, John Tulkki, Ryan Onsgard, Jamie Priest, Paul Ornelas, and especially to Dick and Penny Andersen for allowing us to use their property for the project.
Only two out of five panels were completed, and they all still need to be stained. Stay tuned for another volunteer pallet day coming up soon.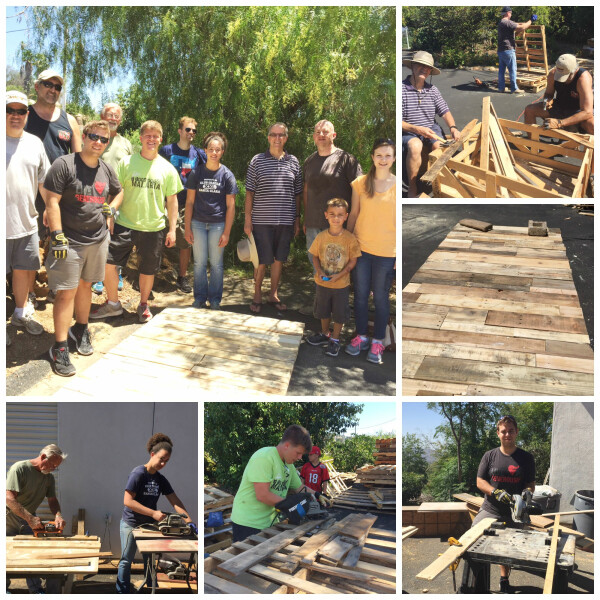 August 7, 2015
Today, Pastor Joel and David Bainum picked up some 12 free pallets, and Weaver Simonsen brought some more pallets along with nail glue and nails over to Dick and Penny Andersen's house. Tomorrow morning at 9:00 AM, we are going to saw the pallets and prep them for a pallet wall that will be built behind the stage in the new sanctuary.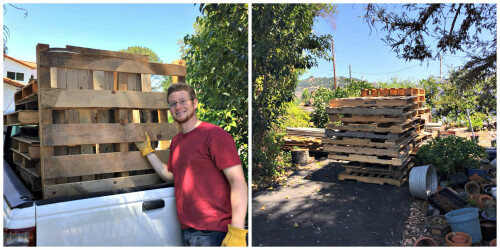 August 6, 2015
Scott Hayward, Paul Ornelas, Larry Patten, and Jeff Hinke continued work on the stage. It's looking good!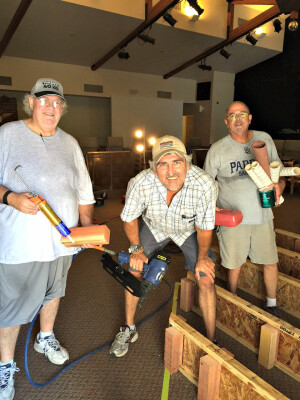 August 5, 2015
Construction for the stage has begun!
Pastor Joel spent time at home putting together furniture for the new nursery. The Beyer kids sure had fun testing it out!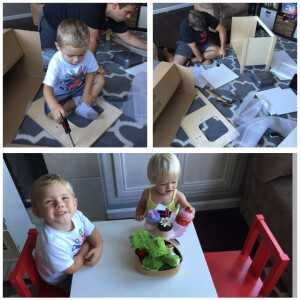 August 4, 2015
Wood was delivered to Scott Hayward at our Escondido campus to start building the stage in Keturakat Hall that will later be moved to the new building.
We received good news that we could remove a telecommunications line so that a soffit wouldn't have to be built around it on the ceiling.
The Board of Outreach met last night and decided to purchase two sandwich boards with church information that will be put out on the street on Sunday mornings at the new building.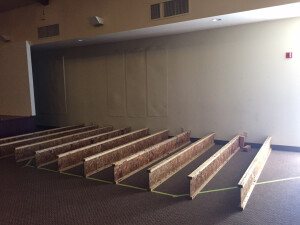 August 3, 2015
They're here! 120 Bibles have arrived for our new San Marcos campus thanks to a grant from the Lutheran Laymen's League.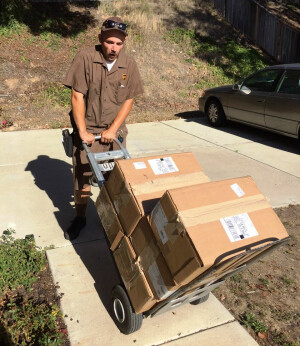 August 2, 2015
An additional $1,020 came in for the Imagine the Possibilities - San Marcos fund this morning at church! Every day, we are getting closer to our goal of raising $115,000.
August 1, 2015
Pastor Joel and Kristen spent the morning painting his office. It is well on it's way to being finished! Just a few ceiling tiles need to be replaced, a window that is currently boarded up needs to be replaced, a small table with chairs will be brought in, and some frames will go on the wall. This will soon be the first room completed in the new building.
We are also $25 closer to our fundraising goal thanks to an LCEF (Lutheran Church Extension Fund) coloring contest. Jonah Beyer and Kahawai Napoleon entered the coloring contest, and LCEF chose our church to receive the prize. Every little bit counts!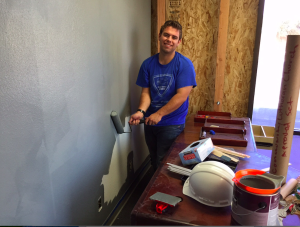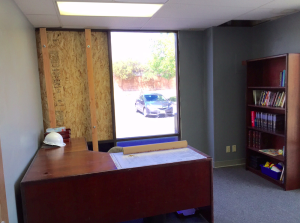 July 31, 2015
Pastor Joel went over to the new building in the late afternoon to orange peel a wall in his office. Framing is completed and we await our framing inspection.
July 30, 2015
Pastor Joel met with Pastor Meyer, Jim Meyer, and Kristen to discuss Believe, the new 30-week series that will be starting September 20th!
The concrete was filled in the bathroom floor and drinking fountains arrived today.
July 29, 2015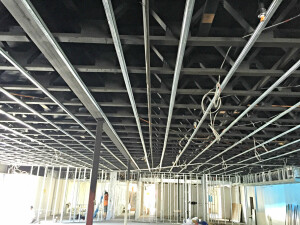 Today in the new building, the brackets have been placed so that soon drywall will be able to be hung from the ceiling.
Many of you have expressed interest in helping with the building renovation, and the time has finally come for us to get to work! We will need many volunteers on these dates in order to move into the new building on schedule. Thank you for all you do to help our church grow!
(Note that all work schedules and activities are subject to change based on building progress.)
Thursday, July 30th or Friday, July 31st (anytime)
Spraying a small wall with orange peel
Saturday, August 1st at 9:00 AM
Putting drywall debris into dumpster
Pulling up carpet
Painting Pastor's office
Saturday, August 8th at 9:00 AM (at the home of Dick Andersen)
Taking apart pallets
Beginning construction on the wood wall which will be put up behind the stage
Date unknown
Saturday, August 15th at 9:00 AM (This might be our biggest work day!)
Painting sanctuary, Sunday school, and fellowship area
Installing cabinets and tile backsplash in fellowship area
Saturday, August 22nd at 9:00 AM
Constructing stage
Assembling wood wall
In other good news, we just found out that the building owners will be allowing us to rent an additional room that will be used for Sunday School! The building owners will also allow us to put up signage on the building. Please continue keeping this process in prayer.
July 28, 2015
An additional $3,120 came in today toward the costs of the new building! Praise the Lord!
July 27, 2015
Pastor Joel and contractors discuss inspections. We have already passed our plumbing inspection and now await our electric, fire sprinkler, framing inspections before drywall can begin.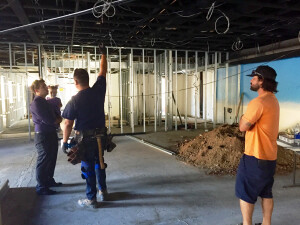 July 26, 2015
It was another great morning of worship at the San Marcos Community Center with new guests! After church, Tim Johnson met with church members to discuss plans for the kitchenette.
A few more donations from members have come in, totaling an additional $1,040 for the new building project!
Meanwhile, at the new building, the windows in the nursery have been framed.
July 24, 2015
We were pleased to see the framing completed for the cry room window. Pastor Joel ran cables through the ceiling today so that they would be in before the lid was put up. He also went shopping for the two large TVs that will be mounted on the Sanctuary walls for the song lyrics on Sunday mornings. Afterward, he met Nick the electrician at Home Depot to discuss Sanctuary lighting and dimmer options for the Cry Room.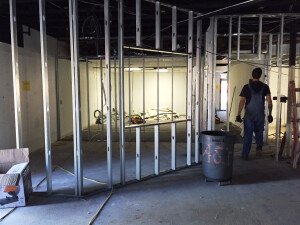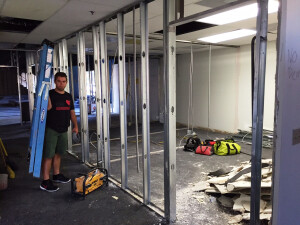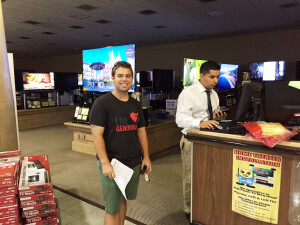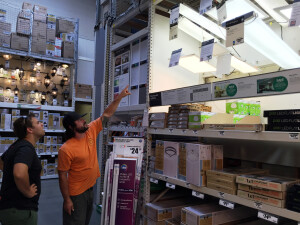 July 23, 2015
Pastor Joel had new AV equipment delivered today and had a great time testing it out with his family at home.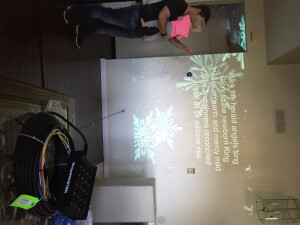 July 22, 2015
Pastor Joel and Bill Hunter spent the morning tearing down additional drywall in front of the nursery so that windows can be installed in the new nursery/hallway wall. It will provide additional light to the room and allow parents to look in and check on the children.
Contractors finished framing in the bathroom. Fire sprinkler work continues. Tomorrow, the rough plumbing will be done, and cement will be poured into the holes. Once the bathroom framing is done, prep work in the sanctuary ceiling will start, and then it's time to call for our first inspections!
We have had donations from members come in this week for the new building totaling $1,060. Alleluia! Still a ways to go, but God will use every dollar to build His kingdom.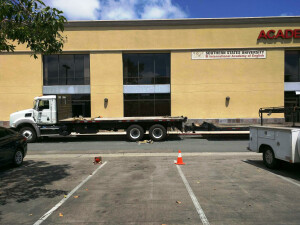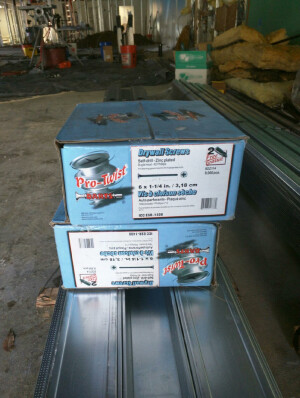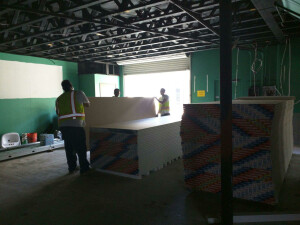 July 21, 2015
Pastor Joel applied for a grant from the Region III Mission Council and presented at their meeting at the LCMS Pacific Southwest office in Irvine today. He shared with them details about the growth of our church and the potential ministries that can and will take place in our new facility. The council deliberated and decided to grant us $25,000! We are so thankful for the mission outlook of the Regional Mission Council and their generous gift.
The building owners were at our new building today and had the opportunity to talk with our church president Tim Johnson in person.
Framing for the drinking fountains and the door to the women's bathroom was completed today among other things.
It turns out that we have one more wall to demolish in front of the new nursery room.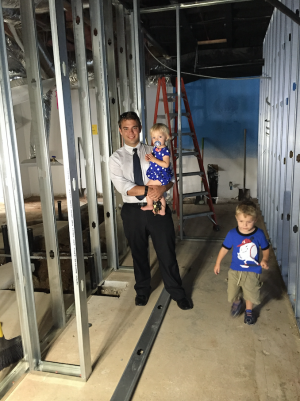 July 19, 2015
Another great morning of worship at the San Marcos Community Center! We even had a few guests worship with us this morning who are interested in joining the church.
July 18, 2015
The plumbers are back at work again, this time with bright lights shining in the darkness to lay the pipes in the ground for the bathrooms. The electricians are in today, as well.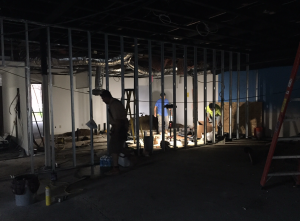 July 17, 2015
What a joy to see the framing going up for the bathrooms, hallway, and cry room today! The cry room looks spacious with room for a large window facing the sanctuary. The hallway will also accommodate drinking fountains.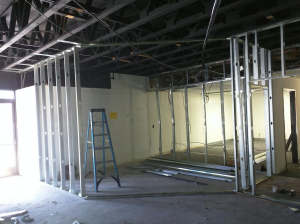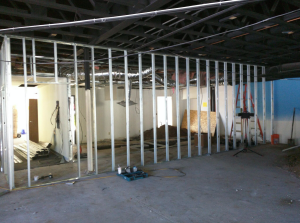 July 16, 2015
We've surpassed $50,000 in assets for our new building thanks to $500 in donations from members this week! We are nearly half way to our goal of $115,000.
Pastor Joel and Tim Johnson met to take measurements and discuss building progress today. Tim is working with some of our church members to finalize plans for the kitchenette.
Pastor Joel is planning and ordering wiring for our worship technology in the ceiling.
The contractors are beginning work on framing walls for the bathroom.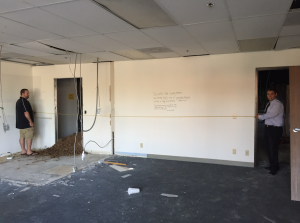 July 15, 2015
Saw cutting for the plumbing in the bathrooms is now complete. Look at the size of those trenches!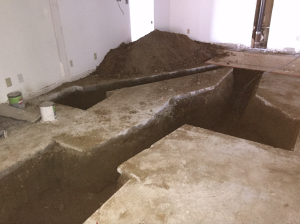 July 14, 2015
When arriving at the new building for a meeting, we were surprised that the plumbing work for our restrooms had begun! The sounds of saw cutters and jackhammers working on our new church was like music to our ears.
Church president Tim Johnson arranged for us to meet with the man who will be installing our flooring so that we could make decisions on carpeting for the sanctuary and flooring for the bathroom and kitchenette. Existing carpet in the offices will remain. Church member Cherie Arendse helped to pick out neutral gray paint colors to which we will match materials. Our church vice president Scott Hayward also came to take measurements and discuss dimensions for the stage that he will build. We are incredibly grateful for the dedication of our church members!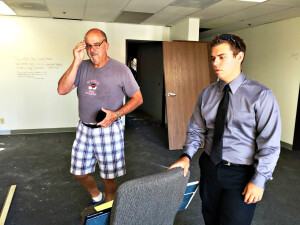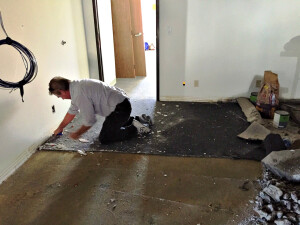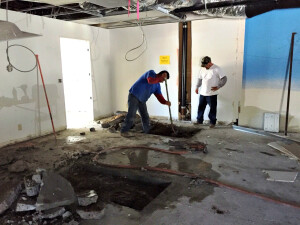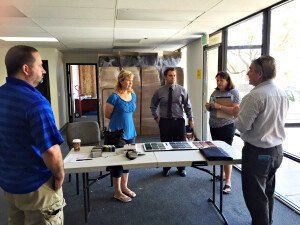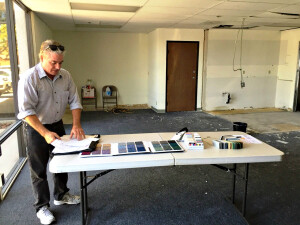 July 13, 2015
Today the electricians were working on taking down old lighting in our new sanctuary space. Pastor Joel ordered the technology that will allow us to have environmental projection in the sanctuary. Tonight, the church council will get building updates at our monthly church council meeting.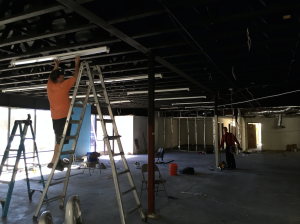 July 12, 2015
Worship continued in San Marcos at the Community Center. The Renovation Celebration video was shown at our Escondido campus in the 10:00 AM service, and many members were moved to see the dream of our new San Marcos building finally becoming a reality. The video will be shown again at our Escondido campus next week in the 7:45 AM service.
July 11, 2015
God is good! This morning, Pastor Joel presented a grant request to the Lutheran Layman's League at their meeting at Faith Lutheran Church in Vista, and they approved $10,000 for a kitchenette at the new San Marcos campus building! The renovation of this space will benefit our young adult group and other Bible study groups that might want to use the kitchenette for coffee and for fellowship. We anticipate the grant will cover the costs of the entire kitchenette renovation including cabinetry, counters, a coffee bar, and a refrigerator. Thanks to the Sunshine Zone Endowment Committee of the LLL.
Assets Update: Total capital building costs exceed $115,000. Our current assets total $49,600:
Keturakat Memorial $14,972
Imagine the Possibilities: $3,430
Outreach Ministry: $10,000
LWML Grant: $10,000
Sunshine Zone Grant: $1,048
LCEF Contest Prizes: $150
Lutheran Laymen's League Grant: $10,000
July 10, 2015
When we went over this morning, we were pleased to see that HVAC was already at work on the ducts in the ceiling! Bertolini delivered the new sanctuary chairs, which will be stored in the reception office area until the ceiling and carpets are done in the sanctuary.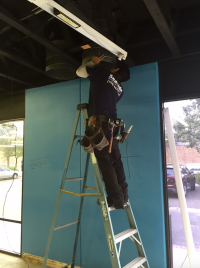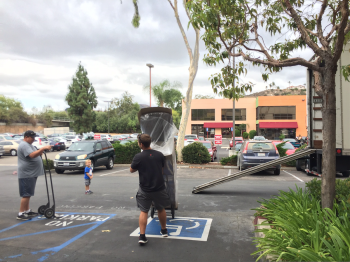 July 9, 2015
Sanctuary chairs will be delivered to the new building tomorrow. Anyone want to help unload and stack them in the office? We will also be pulling up a bit of carpet that is in the space where the new bathrooms will be located.
Missed the Renovation Celebration on Sunday? Watch this video made by Jake Euhus for a recap of the day's events!
Renovation Celebration - San Marcos from Community Lutheran Church on Vimeo.
July 8, 2015
Demolition wrapped up today, and our electrician will get started on the ceiling tomorrow. New framing is scheduled to go up on Monday. Special thanks to all of our volunteers who helped us work so quickly:
Emily Andersen
David Bainum
Jake Euhus
Eli Euhus
Bill Gerber
Bill Hunter
Brandon Hunter and Colin
Raymond Head
Scot and Kari Koch
Michelle Kruest
John Mountain
Mel Schuler
Gregg Simmons
Kyle Stroud
Daniel Robinson
July 7, 2015
A dozen volunteers worked throughout the day from 8:00 AM - 8:00 PM. We were able to get all of the appropriate walls taken down and put most of the drywall into a rented dumpster. We started chipping away at a bit of tile on the floor and pulled carpet where the new restrooms will be located. No injuries today! God is good.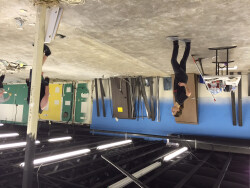 July 6, 2015
Demolition starts today! We are doing some work ourselves to save overhead costs, so volunteers are appreciated to helps us keep to our timeline of 4-6 weeks.
We have also begun fundraising for this huge undertaking. Total capital building costs exceed $115,000. Our current assets total $39,600:
Keturakat Memorial $14,972
Imagine the Possibilities: $3,430
Outreach Ministry: $10,000
LWML Grant: $10,000
Sunshine Zone Grant: $1,048
LCEF Contest Prizes: $150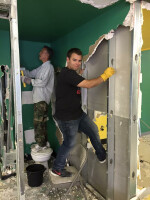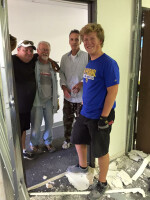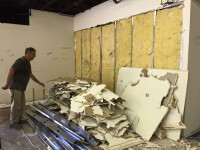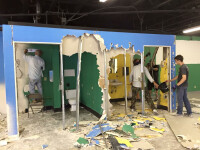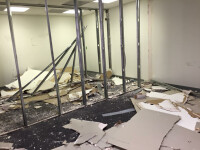 July 5, 2015
Today, we held a Renovation Celebration at our new San Marcos campus building on Rancheros Drive. The children sang, Pastor Vogelsang shared remarks, and Pastor Beyer used the historic CLC shovel and swung the first sledgehammer into a wall. Members wrote their prayers and blessings on the building walls. We are excited to be a part of all of the many ways God will work through out Community Lutheran Church San Marcos campus! Building renovation is expected to take 4-6 weeks. Check back for updates!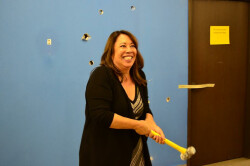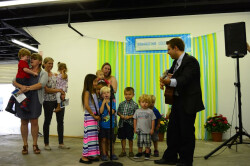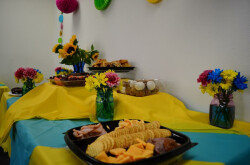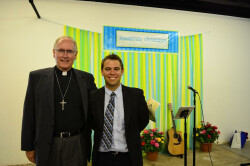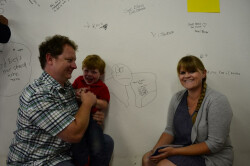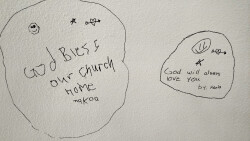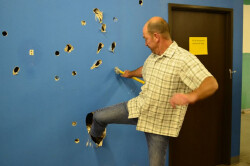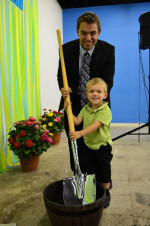 July 3, 2015