What Not to Wear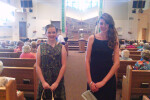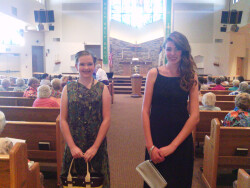 Our LWML zone presented a spectacular fashion event "What Not to Wear" on September 14th which was hosted here at Community Lutheran Church. Area churches in attendance included Light of the Valley in Valley Center, Mt. Olive in Poway, and Community Lutheran Church. Each church spent the weeks leading up to the event collecting used clothing in good condition for our local women's shelters. At least fifteen large bags were donated to various shelters in our community following the fashion show, but not before we had a little fun with them first! Each church selected a day and evening look from their donated clothes for a fashion show put on in the Ministries Building. Mary Andersen and Sarah Huhn represented our church as fashion show models. It's amazing what treasures can be found among used clothes!
Vicar Joel Beyer shared a devotion also titled "What Not to Wear." Our main speaker, Pat Shutte shared with us a lesson called "God's Wardrobe." The title is a reference to the Fruit of the Spirit and how we can wear each of these character traits. We had a great turnout of 45 ladies.
The Lutheran Women's Missionary League is the official women's auxiliary of the Lutheran Church Missouri Synod. For over 65 years, the LWML has focused on affirming each woman's relationship with Christ, encouraging and equipping women to live out their Christian lives in active mission ministries and to support global missions. The group is for all women in our church, and we hold events throughout the year such as a Mother's Day Tea, a Christmas Cookie Exchange, and a Chili Cook-Off coming up October 6th!
"What Not to Wear" Devotion by Vicar Joel Beyer
In the Christian life, God's Word becomes our Stacy and Quentin [from the TV show "What Not to Wear"], not in terms of what we should wear on the outside, but what we should be wearing on the inside, in our thoughts, our words, and our actions. Paul even uses clothing language in saying "put off" and "put on." And just like the makeovers on the show, it's really hard to let go of our old clothes in which we used to walk.
I have a favorite t-shirt that has a couple of holes in it. Its really hard to throw that one away! It's comfortable, its easy. I feel like its a part of me! But everytime I wear it, I know that it's time is running short. It's got holes, its loose, and its very faded. And worst of all, it doesn't look that good on me. Our sin doesn't look good on us. In fact its harmful to us. And when we decide to put on those old comfortable sins, we risk damaging our relationships on earth, and we risk being led even farther into temptation and away from God's protection.
But the beautiful thing is that God has provided for us a new wardrobe! We don't have to continue with the old. Paul reminds believers in Colossians 3:1 that we have been raised with Christ. We died to sin and our life is now hidden with Christ in God. In Romans 6:3-6, he says in our Baptism, we are buried with Christ in His death, so that we might be raised to walk in newness of life, not only when Christ returns, but now! Christ has given us new life, a new wardrobe, to think and serve, and love the way He has loved us and has given His life for us. Because of Christ we receive the power to put on Christ:
"The night is nearly over; the day is almost here. So let us put aside the deeds of darkness and put on the armor of light. Let us behave decently, as in the daytime, not in carousing and drunkenness, not in sexual immorality and debauchery, not in dissension and jealousy. Rather, clothe yourselves with the Lord Jesus Christ, and do not think about how to gratify the desires of the flesh." - Romans 13:12-14
I remember when I really dressed up for the first time. I was in a wedding in Jr. High and my parents bought me a suit. And I hated it at first. It felt awkward. There were too many buttons, the tie was choking me. The pants felt too starchy and stiff. The jacket was heavy. But then I looked in the mirror. Wow! I looked good. And I got lots of compliments. Walking in newness of life is kind of like that. It's not always easy. It takes time to get good at it. But when we do, it looks good, other's see and others are blessed by it.
The worst part of every day for me is getting dressed. There is so much to think about. Does this tie match? Which shirt do I wear? Does this really need to be ironed? Why aren't there any clean socks in my drawer? I know some guys have their wives lay out their clothes for them ahead of time. I'm still trying to get my wife to do that...I don't think its going to happen. Usually she just says, "Are you really going out like that!?" Ladies have you ever asked that of your husband before?
It takes time and effort to make sure that I look decent enough to be in public. What if we did the same with our spiritual clothes?
- How much more would our spouse be blessed if we...
- How much more would our children..
- How much more would our coworkers and neighbors be...
I'm going to close this morning with a prayer of Martin Luther, who found it useful to start the day thinking of how He was going live in the newness of life, and I think its useful to us as well. Let's pray....