What $1,750 Will Buy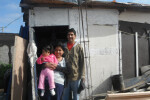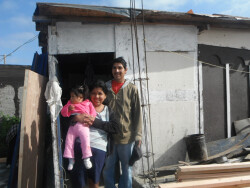 Hello CLC, I am pleased to tell everyone that our church was able to sponsor a home for Bernabe and his wife Sandra and their daughter Maritza through Lutheran Border Concerns! They have been members at El Divino Lutheran Church in Tijuana since 2008. The house was completed May 18th. It took 12 volunteers from 4 different area churches.
Lutheran Women's Missionary League (or LWML for short) looks to the community for projects we can sponsor. LWML started in the 1920's with the idea of the Widow's coin from the Bible story. Using mite boxes (available in the front of our church), we fund different missions throughout the year.
The LWML held a chili-cookoff earlier this year that was an excellent fundraiser. Members signed up to bring their favorite chili recipes for participants to sample. The person that received the most quarters in their jar was declared the winner. Congrats to Dan Huhn for the winning vegetarian chili! The event brought in a total of $1200 for Lutheran Border Concerns.
We also added our free will offerings from events like the Fall Rally and Christmas Tea and were able to raise to $1750 needed to fund the building of this house in Mexico. The next time you empty your purse or pockets put that coin in a mite box and you will be surprised what it can buy for a needy family.
So start looking for a recipe for this October's Cookoff! After services on Oct. 6th, we will sponsor our Chili Cookoff for 2013. You can sign-up to bring chili, or if you just want to sample, purchase a ticket and have fun. We have several projects we are considering sponsoring. Again, Thank you all for participating!
LWML at Community
Links:
Lutheran Border Concerns Website