The First Ride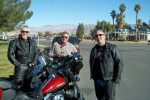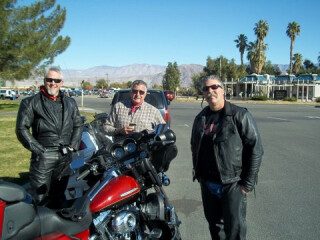 It's Saturday January 19th, 2013. The sun is shining brightly for us as we gather for our first Community Lutheran Church ride this year. Lord willing, we will be meeting the third Saturday of each month to enjoy the beautiful San Diego back country God has allowed us to ride in and through. We meet at 8:15 a.m., leave at 8:30 and aim to be done by 1:00 PM.
Our "rides" range in size from 200 to 1800 cc's and the makes are very much a global mix-American, Italian and Japanese. A total of five in all. Having been really rainy the weekend prior, we weren't sure we'd even have a ride. However, God very much blessed us with a beautiful day!
The first leg of our of ride takes us to Christmas Circle in Borrego Springs. The ride down Montezuma Grade (from Ranchita to Borrego Springs) typically offers tremendous views and today was no exception. We arrive to find a beautiful morning unfolding before us.
After thoroughly stretching our legs, we head out via the southbound route and make our way west across Scissors crossing. As we approach Juilan, via Banner Grade, we found some snow still in the shady recesses of the roadside, left over from the storm the previous weekend. Note to self - be very careful here! We pass through Julian and make our way to Santa Ysabel for lunch and some pies to go. From there we wind our way to and through Ramona and then back to Escondido.
Great scenery, great company and great weather made for a 130 mile great ride. Our next one will be Saturday, February 16th. See ya there?