Lutheran Women's Missionary League (LWML) Zone Rally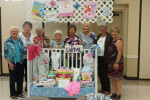 Our Annual LWML Zone Fall Celebration last Saturday, October 17th, was a success! Alternatives Women's Center, gave an informative talk and we donated many new baby items for distribution to the women they support as a non-profit organization. Their new mobile ultrasound clinic was impressive to view first hand. Thanks to all who helped organize and serve at this event.
This gathering was the first step in an effort to heighten awareness for LWML locally and on our two Community Lutheran campuses. As a reminder, LWML is the official women's auxiliary of the Lutheran Church Missouri Synod (LCMS), and all communicant women of Community Lutheran are members and invited to participate in active mission ministries. If you would like to be involved, or if you have any questions, please contact LeEtta Rudolph at .
Lastly, Margaret went to the Rady Children's Auxiliary meeting this week. She reported back that they were raving about the 100 pillowcases they were given and the excitement was contagious! Sometimes the kids use the pillowcases as "bags" to carry their stuff around. The church and LWML made a lot people happy. Thank you to all of those who made the pillowcases.