Knitting New Friends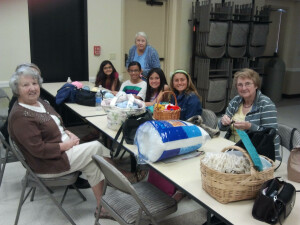 What a pleasant surprise we had this past Saturday when our youngest knitter, Mari Smigal brought three friends with her to learn how to knit! Mari has been coming for several months, and we were thrilled to have her invite her friends. The Needlework group meets the third Saturday of each month and offers instruction/support to all levels of learners and all types of needlework. Currently, we have mostly knitters and only one who crochets.
In addition, we have been working on making hand-crafted blankets and chemo caps for the children at Rady Children's Hospital. In 2012, we were able to donate 14 blankets and 69 hats! If you would like to help as well, the hospital needs small 38"~ 40" square blankets made of very soft, very fine pastel-colored yarn. (We have some donated yarn if you need some.) These blankets are used to cover the incubators and then are sent home with the infants. Also needed are chemo caps, not for infants, but for older children up through age ten. If you would like more information, you can join us on the third Saturday of the month in the Ministries Building at our Escondido campus from 9:00 - 11:00 AM, or contact Donna in the church office.