Confirmation Testimony: Rebekah Eichler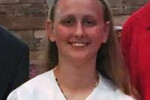 Hi, My name is Rebekah Eichler, and I was baptized when I was a baby, by my father.,
What baptism means to me is that the Holy Spirit comes into our lives and God forgives us of our sins. The people who taught me in the faith was my dad, family, teachers, and friends. Some of them helping me through some of the difficulties of life.
The cross of Jesus mean that we are forgiven of sins It reminds me that I am a sinner,
who doesn't deserve to live, but am saved through God's grace. I think I have seen God's grace by me being a military kid and moving a lot. How being a Christian separates me from the world is that believing in God is knowing I have eternal life, am not afraid of death, and care about life and justice.
Being a Lutheran is relying on God's grace, also knowing that we aren't perfect and God
still loves us. God gifted me with being a pastor by telling people about God, faith by helping and telling people in need and about God, and mercy by having compassion for people with what is going on in their lives. My spiritual gifts are shepherding, which I can share God's Word with others, mercy, by have compassion for others, and faith, also sharing the Word and helping others. I think my style of sharing my faith is by helping others.
I chose Luke 18: 16, "But Jesus called the children to him and said, "Let the little children come to me, and do not hinder them, for the kingdom of God belongs to such as these", because back then, there was not much attention towards kids as there is today. Kids were not allowed to go near adults. And this verse gives me comfort with knowing that no matter how old we are, we are children in God's eyes.
I see myself in five years as graduating high school and ten years is working. I plan on
being near family and career-wise working as a teacher or a forensic anthropologist. How I am going to stay as a Christian in the future is reading devotions, praying, and going to church. I like to thank my friends and family for helping me through this time and for the future. Thank you.