Confirmation Testimony: Kayla Tracy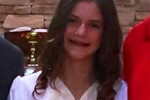 Hi I'm Kayla Tracy and I go to Woodland Park Middle School and play lacrosse. Both of
my parents grew up going to church. After they got married they had Sara, my older sister, then me, Kayla, and finally Kathryn, my younger sister. I was born on April 22, 2002 and a month later was baptized by Pastor Vogelsang on May 26. When I was baptized I know that the holy spirit entered my heart and forgave my original sin. This has helped me grow in my faith and has given me eternal salvation. My Sunday school teachers have really helped me learn a lot more about my faith and when I really started to understand it was when we read a lot of the Bible in 6 th grade with Kristen Beyer.
The cross of Jesus, to me, means that he loves every single person, Christian or not, to
where he would die on the cross to save everyone from their sins. He could've gotten off to not go through any pain or suffering, but chose to forgive each and every one of us. The cross shows me that no matter what I do God will forgive me. He has shown me his grace by providing me with a family that cares for me and loves me and grandparents who cheer me on and love me so much. He has given me friends who keep me out of trouble and guide me to the right path. Going to a public school shows you what the world is like and how mean people can be, but it also gives you opportunities to talk to others who don't have faith and show them that life does matter. Being a Lutheran is enjoyable because I know that no matter what I can be forgiven as long as I confess my sins. God's grace assures me that I will go to heaven and I don't have to do things to get into it and lets me know that I'm going there instead of being unsure. Being able to
confess what I have done wrong through Holy Communion gives me relief in knowing that God has really forgiven my sins and has forgotten what I've done wrong. It is one on one time with God and what it means to me is that everyone comes together as sinners, then through the body and blood and confession we are forgiven, no matter what we have done. God has gifted me in the ability to play the piano during communion and praise him. He has also given me the Interpersonal style in sharing my faith. It is really easy to share my faith with some of my friends who are not Christian and I am able to listen to what they think. A girl I sit next to in my science class worships the devil and think she is a devil too because she likes to be evil. I've played lacrosse with her and have developed a good friendship. I have learned a lot about her religion and also have taught her a lot about my faith. Although I haven't gotten her to become a
Christian, I have planted a seed in her heart and hope that it will grow as she gets older.
My confirmation verse, Ephesians 2:10; "For we are God's handiwork, created in Jesus Christ to do good works, which God prepared in advance for us to do," shows me that we are created to do good things, and those are sharing God's word, helping others, and caring for others. Jesus has showed us all of these things and how we should do them. I really like this verse because it was my grandma's verse and that it tells me that God uses me to do good things using my special abilities. I've learned that my spiritual gift is Administration because I'm good at keeping organized and reach the goals I set for myself.
In a few years I hope to see myself graduating high school and going to college to major in the engineering field. I also will stay connected to the Christian Church in the future by going to youth group and church on Sunday, going on youth trips, participating in church events, and continuing to go to church in college. I want to thank my family, friends, youth leaders, the Church community, and pastors who have helped and prayed for me during my life here at church. Thank you.