CLC Christmas 2020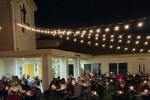 Christmas 2020 was a little different from previous years at CLC because of COVID-19. But, it was still planned for and celebrated in grand fashion even if events weren't inside.
It started out with the Advent Services online.
December 12th brought the inaugural CLC Drive-thru Living Nativity with the public invited. People started by driving through a tunnel of lights listening to an intriguing question on their radio. From there, they heard live music from carolers and musicians as well as seeing live animals and, of course, the Living Nativity.
A week later in the parking lot was the CLC Outdoor Christmas Concert.
Finally, it was time for Christmas Eve and Christmas celebrated in-person, online and live-streamed.