Church is More Than Just Donuts - Confirmation Testimony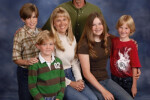 By Jacob Huhn
Our eighth grade students were confirmed at Community Lutheran Church campuses in Escondido and San Marcos on Sunday, May 19th. In case you missed it, we are posting twelve of their testimonies here on our church blog.
Hello, my name is Jacob Huhn, and I am thirteen years old. My parents are Dan and Jackie Huhn. I have an older sister, Sarah; and two younger brothers: Luke and Ben. I was baptized on October 8, 2000 by Pastor Vogelsang, in Keturaket hall.
Baptism means to me that, because of my faith, if I die today, or anytime, I will go to heaven. My faith in Jesus might get me persecuted someday, maybe even killed, but I will stand firm and do the right thing; as Philippians 4:13 says, "I can do all things through Christ who strengthens me." My biggest temptation is taking shortcuts, and finding the easy way out. I am handling and will handle this by praying to God every day and asking him to help me. I believe that he can and will help me out of any situation that seems too hard for me to handle. My confirmation and baptism mean that even though I have sinned and will sin again, God will forgive me and welcome me into heaven to live with Him forever and ever.
Ten years in the future, I see myself graduating from college and beginning a career. In fifteen to twenty years, I hope to have a good job that I enjoy. I also hope to lead a healthy, Christian family. No matter what comes, though, I plan to hold fast to my faith in Jesus Christ and trust that he has a wonderful plan for my life.
I have been involved in the church as an acolyte; I have served in both the children's and the bell choirs; and I have participated in "Faith in Action" projects. In the future I plan to be involved in as many ways as I can, and really use my spiritual gifts.
When I was younger, I didn't really understand going to church. I thought that it was boring to have to sit still for an hour. As soon as the final hymn ended, I would shout: "Yay, we're done!" and run out to play with my friends and get a donut. I still enjoy socializing with other Christians and donuts but the church service is much more important to me for strengthening my faith in Jesus. I am sure that church will be very important to me as an adult.
The most important thing for me to this point has been the love of others, especially my family. Now I realize that what I should treasure most is Jesus and His grace and love for me. My confirmation verse is Ephesians 2: 8,9. For by grace you have been saved through faith. And this is not your own doing; it is the gift of God, not a result of works, so that no one may boast. To me, grace means I am forgiven, I am not weighed down by guilt and regret. No matter how much I mess up I know I can have a fresh start and Jesus will welcome me back with open arms.