A Part of God's Family - Confirmation Testimony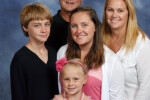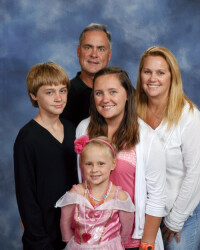 My name is Jake Stewart and I am 14 years old. I attend middle school in Rancho Bernardo. I have two sisters, a younger and an older, Lilly and Chloe. I was baptized on November 22nd of 1998 In Camarillo, Ca. Being baptized has meant a lot to my life, just as it will in the future. To me, I was not only baptized, but I was baptized into Christ. Having been baptized has kept me comfortable. This is best proven in Matthew Ch. 18:18-20. "All authority in Heaven and Earth has been given to me. Therefore go and make disciples of all Nations, baptizing them in the name of the father and of the son and of the holy spirit, and teaching them to obey everything I have commanded you. And surely I am with you always, to the very end of the age." This should mean a lot to anybody who has been baptized. This shows that God will always be with you – no matter what you do! I think forgiveness is as important thing to give. Jesus Christ died on the cross so we could live and most importantly, be baptized. Not giving forgiveness is bad for our relationship with Christ and in order to fully live up being baptized, we must forgive. As said in 1 John 1:9 "If we confess our sins, he is faithful and just and will forgive us our sins and purify us from all unrighteousness." This verse stresses the importance of giving forgiveness and also shows WHY it is important. If god is going to die on the cross to let us live and be baptized, we need to prove that we are worthy. And although we are never worthy, we still must make an attempt because he has given us the most important thing in life – Baptism. Without Baptism, we cannot be as comfortable, or have as good of a relation with Christ. Without Baptism, we are not like many other Christians in this world. Without Baptism, we are not the same people as we would be with it. "Then Peter said unto them, Repent, and be baptized every one of you in the name of Jesus Christ for the remission of sins, and ye shall receive the gift of the Holy Ghost." Acts 2:38.
Ten years from now I can honestly say I am not sure where I will be. I would obviously like to be in college, as I am very interested in astronomy and engineering. If I work hard enough, I can get anywhere and do anything I want. The only place I can for sure say I will be is in Gods family and embracing it. I think that 10 years from now, knowing that I was baptized will feel really good and important to my life. As best said in Ephesians 2:8-10, "For it is by Grace you have been saved, through faith – and this not from yourselves, it is the gift of God – not by works, so that no one can boast. For we are God's workmanship, created in Christ Jesus to do good works, which God prepared in advance for us to do." Ten years from now, I will not take the Grace I have been given for granted. I will cherish it and respect it, because grace is a valuable thing.