A Beautiful Faith in Action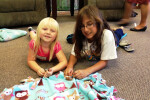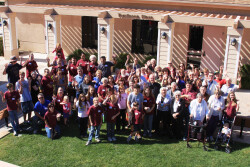 Faith in Action is a tradition of our church because it gives members the opportunity to serve community organizations, neighbors, and even people around the world. Our church is truly at its best when we are internalizing the grace of our Lord Jesus Christ in worship and then going out to share it with others in real and tangible ways.
Sign-ups this fall were a bit slow at first, likely due to the busy schedules of families who are unable to commit in advance. But just as He always does, God provided us with just enough volunteers to accomplish the projects He had planned for us. In the week before Faith in Action, we went from about 65 volunteers in sign-ups to nearly 100. Our Social Services board chairman Dan Huhn organized most of our Faith in Action projects and had this to say about what made Faith in Action special: "I thought everyone had a great positive attitude this time. It really seemed Spirit led verses drudgery." 100 volunteers heard the call and made a beautiful Faith in Action!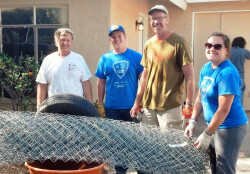 It all began on Saturday, October 26th with five volunteers who participated in a Habitat for Humanity project here in Escondido. Habitat for Humanity is a Christian organization that builds housing for families in poverty. This new development in Escondido is in the very beginning stages, and this was the last work day until permits would be done and work could begin in earnest. Dan Huhn said, "This is my second time working there, and both times I enjoyed some great Christian fellowship and came home tired, but feeling like I had accomplished something worthwhile." Our church plans to follow-up with this project next year when the building project is underway and we can send more volunteers. The foreman made the comment that we were their closest partner church, and it's a good feeling that we can support them. Look for a volunteer orientation meeting at our church coming in the spring!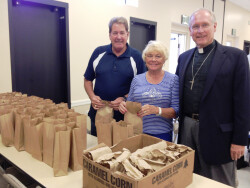 On Sunday, October 27th, Jackie Huhn led some of our youth group moms in making lunch for both our Escondido and San Marcos campuses to eat after church. Three of our Faith in Action Sunday projects were located on the Escondido campus. In the Ministries Building, a group led by Ray Lovell put together lunches and hygiene kits for North County Interfaith, an organization that provides basic needs and services to the disadvantaged in our community. We put together 150 lunches, which is just enough food for Interfaith to distribute lunches to the homeless population for one day! 24 hygiene kits were also put together thanks to the generous donations of our congregation and Thrivent Financial for Lutherans. Interfaith has an incredible task in caring for homeless individuals and families in our community, and they could use more help. On the first Friday of each month, a group from our church visits Interfaith to serve breakfast and make lunches. Please contact Ray Lovell if you would like to volunteer.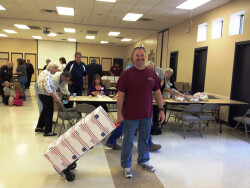 Sharing the Ministries Building with the Interfaith project was the Military Care Packages project led by Steve and Teresa Staton. Items for the packages were collected over the weeks leading up to Faith in Action, and thanks to donations by church members and a financial gift from Thrivent Financial for Lutherans, our church was able to exceed our goal of mailing 30 boxes! One dozen volunteers sorted items such as DVDs, deodorant, shampoo, and snacks and packed them into boxes. Each box also includes a note from our congregation. In the past, we have received thank-you letters and comments from troops overseas such as this one from SPC Elise Eddy who received one of our boxes this summer: "It's a wonderful feeling to know that there are people like yourselves who care and support our mission." Our prayer is that the 31 boxes being sent out this week will bring comfort to our troops who give of themselves to serve and protect us overseas.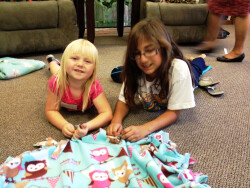 In the Library, Jaime Stinson led a no-sew blanket making project for Project Linus, a nation-wide Christian organization that provides homemade blankets for children with serious illness, in foster care, or who are in need. The group of volunteers consisted of men, women, and children who cut and measured fringe on fleece fabric before tying knots to finish them off. Some volunteers even made blankets at home this week! Forty blankets were made of colorful, fun children's fleece to be delivered to Project Linus. As a woman who enjoys crafts, I appreciate when my hobby or craft can serve others, and I look forward to making more of these blankets in the future. One volunteer who had a great time making three blankets this week has inquired about turning this an on-going ministry of our church.
Across the street from our Escondido campus at the Humane Society, Dan Huhn led a group of volunteers which included several high school youth. The Escondido Humane Society takes in homeless animals from the community and nurtures them until they can be cared for by foster families or adopted. Tasks included clearing brush, fixing shade structures, and cleaning the bunny room. The work outside was challenging, and everyone was exhausted by the time that it was finished. But the lesson learned for next time was to avoid the bunny room! The volunteers who worked on cleaning bunny cages and the bunny room said it was really smelly! As I walked through the facility, however, I couldn't overlook the many animals without homes, and I was glad that our church could support this organization.
Some volunteers went to the house of one our congregation members and helped her with some simple home maintenance that she was not able to do on her own. Thank you to Dan More and Curt Euhus for leading this project. Faith in Action Sundays in the past have often included projects at the homes of elderly church members. Projects such as these are testimonies as to how brothers and sisters in Christ are to care for each other.
Finally, our volunteers participated in a project on South Twin Oaks Valley Road in San Marcos led by Vicar Joel Beyer. Most of the running and hiking trails San Marcos are well-maintained, but one particular trail had gone by the wayside. A quarter mile stretch of running trail had become completely overgrown with brush and weeds. Twenty volunteers worked tirelessly to show that we care about our community and the overall beauty of our city. Joe Guiterrez, a park ranger who worked with us on the project was very impressed with our effort and sent a thank-you saying, "Fantastic job done by your crew! You had great coordination and great follow-up. We're looking forward to supporting you and your great team in bettering the trail system for the city of San Marcos." People driving by even slowed down to honk and say thanks. We gave an incredible witness in Christian love, and we may even end up in San Marcos' city newsletter!
Earlier, I mentioned that this Faith in Action was beautiful, but after reading about the smelly bunny cages and tangled, weedy running trail, you can see that much of Faith in Action did not appear "beautiful." It was the hands that served to the glory of our God that were beautiful – the hands of our volunteers that offered comfort, healing, provisional needs, compassion, love, and a clean start. "If anyone speaks, he should do it as one speaking the very words of God. If anyone serves, he should do it with the strength God provides, so that in all things God may be praised through Jesus Christ. To him be the glory and the power forever and ever. Amen" (1 Peter 4:11).