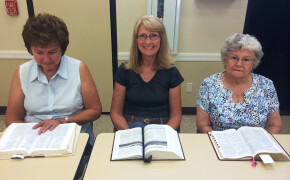 Weekly Women's Bible Study
Join us every Wednesday at 10:00 AM in the Ministry Building at Community Lutheran Church for Bible study! Meets late August through early June.
The Peacemakers Quilting Group
Whether you are new to quilting or an experienced quilter, come join the fun and fellowship with other quilters. They meet the third Saturday of the month at Community Lutheran Church from 9:00 -11:00 AM in the Library. One of the most important projects of the Peacemakers group is making prayer quilts. The prayer quilts are an outreach ministry that combines the gift of prayer with the gift of a hand-tied quilt. The idea behind these prayer quilts is simple. A heavy thread is used to take stitches through the quilt layers, and the ends are left free to be tied with a square knot. As each knot is tied, a silent prayer is said for someone in special need, who then receives the finished quilt and is literally "covered in prayer".
Ladies' Lunch Out
Join us once again on the third Friday of each month at a different restaurant as we meet for fellowship and get to know each other better. The ladies will gather on one side and the men on the other! Sign up at the Information Booth so we know how many to make reservations for.