Sunday Morning Bible Class
NOTE: Sunday Bible classes are planned to start in September
Every Sunday morning there is Bible Class for all Jr. High age youth. In Escondido, the class meets in Room 12 of the preschool from 9:15-10:00 AM. In San Marcos, the class meets in the office from 10:45 - 11:30 AM on Sundays.
Confirmation
Confirmation at Community Lutheran is a 3-year program that helps build the students knowledge of Scripture and the Doctrine of the LC-MS and also helps them apply it to their daily lives. Classes currently are scheduled Wednesday afternoons from 4:30-5:30 pm at Escondido and Sunday evenings from 4:30-5:30 pm at San Marcos. Please contact Pastor Bob or Pastor Matt with any questions.
Youth Night
Currently our Jr. High Youth Nights are meeting Wednesday's from 7:00-7:45 pm. This is a time to enjoy being with friends in a fun environment. We do some games and have a short devotion. Please contact Pastor Bob with any questions.
Youth Group Merchandise
Our new Youth Group merchandise is available. CLICK HERE for a flyer with pictures and prices.
Monthly Events
Every month we will do some sort of fun activity to bring us together on or off campus. Might be rock climbing or jumping around at a trampoline park. Check back monthly to see what we are up to next.
---
Upcoming Events for Junior High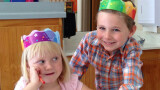 Every Sunday, 9:15 AM - 10:15 AM
Click here for a printable Youth Medical Release Form (required for activities and trips off of our church campus).